This Position is Now Closed
We are recruiting for an Operations and Research Manager (Maternity cover) to deliver all aspects of the Healthwatch Hounslow service in line with statutory duties, service specification, agreed KPIs and the YVHSC model of delivery.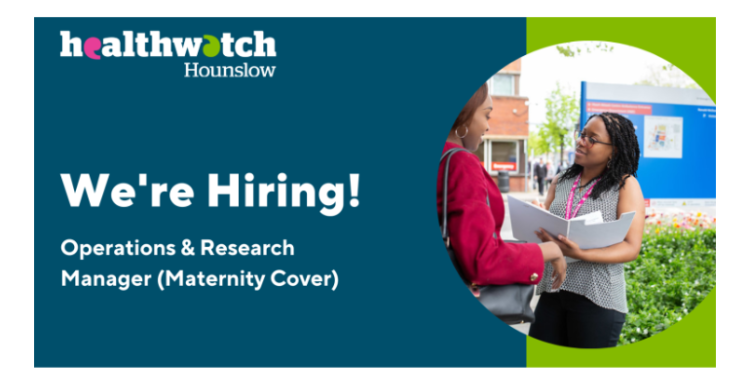 Our aim is to raise awareness amongst commissioners, providers, and other agencies about the importance of engaging with communities, and the expertise and value that individuals can bring to discussion and decision making on local and national issues. We carry out activities across a number of different programme areas to enable us to fulfil our statutory functions. 
We capture community intelligence through an extensive patient experience, engagement and outreach programme in order to understand and report on experiences of health and social care services in Lewisham. 
We promote community involvement in the commissioning, provision and scrutiny of health and social services, giving people and communities a stronger voice to influence and challenge how health and social care services are provided within their locality.
We undertake research studies examining health and social care services, pathways, health and social care issues and community needs.
We have the authority to monitor and review how local services are planned and run. With the exception of social care facilities for children and young people, we have the statutory power to 'Enter and View' premises delivering health and social care services, to allow authorised representatives of Healthwatch to observe the nature and quality of services, report on their findings and make recommendations, to which local authorities and NHS bodies have a duty to respond.
Healthwatch Hounslow also provides an Information & Signposting service to help people to make choices about health and social care services.
Title: Operations and Research Manager (Mat cover) - Healthwatch Hounslow
Reporting to: Director of Operations - YVHSC
Responsible for: Healthwatch Hounslow staff team (currently 2 part-time staff)
Location: Office located at W5 5RG
Salary: £25,000 - £30,000Hours: Full time, 37.5 hours per week
Holidays: 25 days, plus 8 statutory days
Contract: Maternity cover, anticipated 12 months
Start Date: ASAP
To apply: Please apply via emailing your CV and Covering letter to info@yvhsc.org.uk
Deadline: Interviews anticipated w/c 7th August 2023
More information on the Job description can be found below.