Evaluative Review of the Community Recovery Service and Integrated Response Service in Hounslow - 2016 Report
An evaluative review of the community recovery service and Integrated Community Response Service in Hounslow by Healthwatch Hounslow in 2016.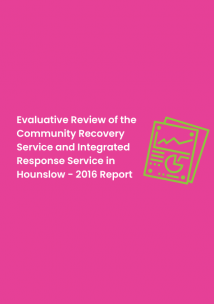 Healthwatch Hounslow (HWH) has presented an evaluative review of both the Community Recovery Service (CRS) and the Integrated Community Response Service (ICRS), in Hounslow so as to review current services in line with the King's Fund recommendations and to examine service provision available and accessed by the community in Hounslow.
The review looks at service uptake by people from both disadvantaged ethnic minorities and emerging communities in order to help to reduce health inequalities, remove barriers to health, cater for diversity and to help prevent the condition of people from deteriorating further due to isolation and neglect.
Throughout this review Healthwatch have obtained feedback from both staff and users of the services so as to ascertain any gaps in service delivery; accessibility and awareness; the extent that the service supports the transition from secondary care, what the issues with this are and what staff and patients feel could be done to improve this; and identified rates of preventable admission and planned discharge.
Downloads
If you need this document in a different format, please email info@healthwatchhounslow.co.uk or call 020 3603 2438.
To view the report, please click on the link below:
File download
Evaluative Review of the Community Recovery Service and IRS in Hounslow - 2016 Report