How Has Coronavirus Affected You? August 2020 Report
This research project took place as a result of the Coronavirus pandemic (Covid-19) and the subsequent lockdown that took effect in England in March 2020.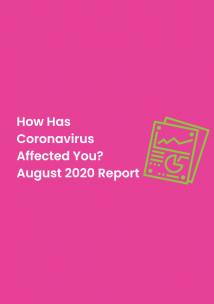 The survey was developed with our colleagues from the Hounslow Clinical Commissioning Group. To ensure that the survey was produced with all in mind we engaged with various partners – CCG Primary Care Team, Hounslow Local Authority, Patient Representatives, Voluntary sector Partners etc.
The survey was launched on Survey Monkey on 26th May 2020 and ran until 1 st July 2020. People were also given the opportunity to speak to us over the phone to complete the survey.
The information presented within this report reflects the individual experience of those who completed the survey and those we spoke to over the phone. Healthwatch Hounslow presents this as information to be considered and utilised to improve service provision and highlight areas of good practice.
Downloads
If you need this document in a different format, please email info@healthwatchhounslow.co.uk or call 020 3603 2438.
To view the report, please click on the link below: