The Experiences of Integrated Care by Women in Ealing & Hounslow - March 2021 Report
Healthwatch Ealing and Healthwatch Hounslow were commissioned by NHS England to undertake a piece of research into the Integrated Care System regarding how women with multiple long-term health conditions, including a cardiovascular condition were supported by local services.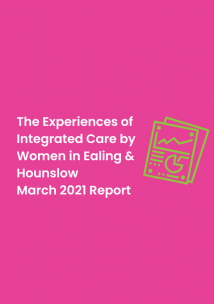 Aim
The aim of this research was to test and inform the qualitative methodology used to assess how well local health and care providers are delivering coordinated care and thereby supporting the identification of key areas of the integrated system that require further development.
Literature Review
A literature review was conducted alongside a comprehensive data analysis, a series of focus groups and semi-structured interviews, and a meta-analysis to capture the theoretical pathways of integrated care for women suffering from cardiovascular issues as well as how these pathways are being realised and experienced.
Findings
The data shows that women in Ealing and Hounslow with this complex health status were frequent users of a large range of different emergency and elective secondary care services. In conjunction with the views and experiences of women that shared similarities with this experience profile, the evidence suggests that holistic care pathways must be effectively structured with accessible prevention and management strategies in place, in order to improve the health and wellbeing of these women.
Downloads
If you need this document in a different format, please email info@healthwatchhounslow.co.uk or call 020 3603 2438.
To view the report, please click on the link below:
File download
The Experiences of Integrated Care by Women in Ealing & Hounslow - March 2021 Report