Carers' Views on the Impact of the Adult Social Care Outcomes Framework (ASCOF) - November 2017 Report
Healthwatch Hounslow (HWH) undertook a review of the situation and experiences of residential carers in the local community of Hounslow in November 2016.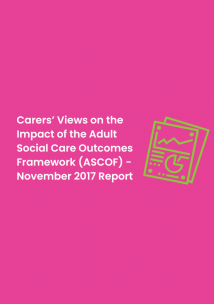 Our focus was on non-paid residential carers, aged 18 years and above, who are looking after someone who is 18 years and above and who have been assessed or reviewed, either separately or jointly with the cared for person by the local Social Services during the past 12 months prior to the sample being extracted. We decided to target older carers and include young carers and those from so-called emerging and hard to reach ethnic groups in the community.
We aimed to review residential carers from the Hounslow community to compare our findings with those of the previous ASCOF report and to find out Hounslow's present performance in certain key areas. While doing so we made it a point to include some open-ended qualitative questions to provide opportunities to our sample of local carer respondents to provide rich qualitative data and insights so that we could explore and understand if, why, where and how carers struggle while performing their caring role.   
Downloads
If you need this document in a different format, please email info@healthwatchhounslow.co.uk or call 020 3603 2438.
To view the report, please click on the link below:
File download
Carers' Views on the Impact of the Adult Social Care Outcomes Framework (ASCOF)